AIRCOSAVER, the Air Conditioning Energy Saver
Cooling – one of the major energy challenges of our time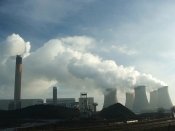 Air Conditioning is one of the largest energy consumers in many households and businesses – and on a larger scale even for complete countries. Nowadays, sophisticated technology (such as inverters) is available to make new air conditioning units more energy efficient. However, this does not solve the problem that there is a very large installed base of simple and older A/C systems out there: inverters can not be retrofitted to most A/C units.
These older or simple systems will be used for many years to come and will keep consuming huge amounts of energy – the only exception are places where major financial incentives / subsidies are paid to replace them with newer systems.
At EPV Electronics we are a team of engineers who believe that there is a way to improve the energy efficiency of these simple A/C units. We believe that by adding intelligence we can make simple air conditioning units more energy efficient. By doing so, owners of energy-hungry A/C units can get the best use out of their units before eventually replacing them.
We have been working on this solution for the last 10 years. To make this kind of retrofit suitable for the vast range of different systems and cooling conditions has been challenging but we have been constantly evolving and improving the AIRCOSAVER.
The AIRCOSAVER

is an intelligent electronic control unit that adds intelligence to simple air conditioning systems and improves their energy efficiency.
is proven & reliable with many ten thousands of AIRCOSAVERS installed since 2001. Tested and installed successfully by various prestigious blue chip clients and leading authorities.
achieves on average 20% energy savings, resulting in a short payback period.
is 100% engineered & manufactured in Germany to highest quality standards.